4 August 2015
The Myanmar government has appealed for international aid amid floods which have killed at least 46 people and affected more than 210,000.
Four areas in the country have been declared disaster zones with widespread flooding and landslides caused by heavy monsoon rain.
Many areas are still completely cut off by high waters or damaged roads.
The government has admitted giving a weak response to the disaster, according to state media.
The Global New Light of Myanmar newspaper quoted Information Minister Ye Htut as saying that flood warnings had not reached everyone, and there had been confusion over evacuations.
Myanmar experiences flooding every monsoon season but has been particularly badly hit this year.
'We are co-operating'
The call for international aid stands in contrast to the stance in 2008 when Cyclone Nargis killed more than 130,000 but the government refused outside help.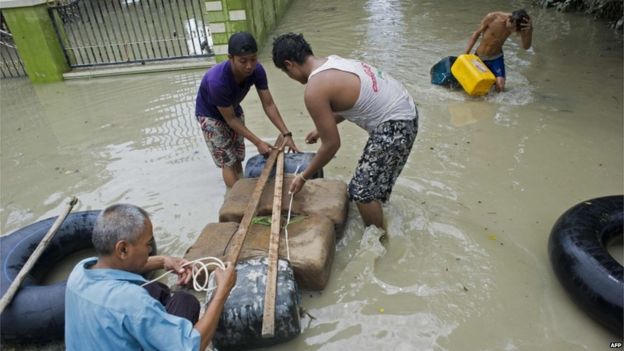 The information ministry of Myanmar (also known as Burma) posted its appeal to UN agencies and donor countries for humanitarian assistance on its Facebook page late Monday night.
The statement also appeared in local newspapers on Tuesday.
"We are co-operating and inviting international assistance. We have started contacting possible donor organisations and countries," Ye Htut told Reuters news agency.
The UN Office for the Coordination of Humanitarian Affairs (Ocha) said agencies were scaling up their emergency response.
It said the World Food Programme had started providing food rations to 47,800 people, with the aim of reaching 150,000 people eventually.
The UN children's agency Unicef has distributed water purification and hygiene kits, and agencies are preparing to request for UN funds for financial support.
State media said the government had so far provided 1.5bn Myanmar kyats (£780,000; $1.2m) in emergency aid.
Ocha said that transportation, electricity and communication were disrupted across the disaster zones.
Access to these areas "remains a major challenge" with debris floating in rivers – a hazard for boats – and landslides that have blocked roads, it said in a statement.
The food supply over the long term will be problematic as well, with widespread flooding of farmland and the loss of grains and livestock, it added.