Published: 16 June 2015
Written by The Chinland Post
2012 kum ah Chin Ramkulh khuapi hi ka phan dih ngawt cang__Paletwa dah ti lo. Thlanglei Laitlang kan timi chung in Kanpetlet, Matupi le Mindat hna cu voi hnih cio ka rak phan cang hna. Chin ramkulh khualipi phak dih hi ka thinlung ah phundang ngaite in a um. Tlawn khawh dih hi hlawhtling pakhat ah ka ruah.
Asinain kum thum chung ah zeiti hmanh in tlawnnak lam a um lo. Tlawnti hawi zong ka ngei fawn lo. Nain a caan ka bawh zungzal. Cuti bantuk in ka bawhmi cu 2015 May thla zarhthumnak ah a hung tling taktak. Paletwa kal khawhnak lam aa hung taktak. Kum thum renglo ka hngahmi, Chin Ramkulh khuapi phak dih ka duhnak chunmang a hung tling taktak cang lai. May 18 ah hun i thawh ding in aa fiang. May 17 zan ah Sittwe tiang vanlawng Ticket, Sittwe in motor cit dingmi le tilawng (boat) hlanmi zong a tlamtling dih cang. Asinain, cu tlukpi in ka rak i ngaihmi cu kal lai ah cun zenh bantuk in ka thinlung ah 'duk' tiah a hung lut. Kaa fiang. A hlan i a dang Chin ramkulh khuapi ka tlawnmi le atutan Paletwa tlawn ding cu aa lo hrimhrim lo.
Rangoon kan i thawh in ruahnak khi aa phundang ngai cang. Ka U Ling nih kan thil timhmi ah "Life Jackets" a hun rawn colh. Zei ruang ah ti ka hun ruah tikah Paletwa kal cu phundang a rak si. Kaladan tiva chung ah suimilam paruk chung tilawng cit a hau. Anih (U Ling) nih Kaladan i tilawng mawngtu nih "Live Jackets" an i put lo kha a rak hngalh cia. Tiva pi in ti lioh thiam lo bu in 'Live Jacket" i hruk lo cu kan rak mawh hrim lo. Asinain ka phak bal lonak Paletwa phak ding kaa ngaihnak cu a ka lung ah a tang peng rih ko. Zenh pah lak ah lung hna an ngam khunmi cu Paletwa phak hlan in dongtu, tlun-inn zong tawlrel piak chung dih a si caah hna a ngam khun. Cu hna ngamnak he Paletwa cu May 19 ah ka phan taktak.
May 21 cu Paletwa khua in khan 15 fai aa hlatnak khua pakhat ah kan kal. Tilawng (Boat) in suimilam 2 fai kan kal hnu ah khua pkhat ah kan i din. An khua luh hlan in kum 3–5 kar ngakchia tete zalongte in lente an i celh ka hei hmuh. An khua ka hei luh tikah inn le lo cu a khaan zong dan rih lomi an tam. Nutung hna nih an fale bawhkeuh hnuk dinh pah in an hei ihpi hna. Tar cheukhat aa hngilh zong an um. Nungak le tlangval cheukhat cu buk pawng ah dir in kanmah a kan zoh zong an um. Cheukhat inn a sa zong an um. Inn hmai ah rawl a chuang zong ka hei hmuh pah hna. Ngakchia cheukhat ca a zoh an um. Ngakchia hna cu a bubu in ca an zoh i an thinlung takte in ca an duh khi ka hei hngalh. An catang pawl ka vun hal hna tikah tangcheu le tangthum kar ngakchia an si.
Cu khua cu khua min an ngei rih lo. Ral ruang ah a zam i buk aa sermi an si. An khua taktak cu Pin Su (Pyin Shu) khua ti a si. Inndawng (62) an si i an khua inn dihlak in cun cuka hmun ahcun an rak i dor. An in dor caan thlakhat fai a si cang tiah a kan zultu Paletwa mino pakhat nih a ka chimh.
Paletwa mino in a kal kalpitu Pu Mang Ling nih khuabawi pa a auh i nan khua upa pawl ton an in duh hna tiah a va chimh. Upa tam deuh cu thingsam in rian an tuan tikah mi cu a va khawmh hna. Minutes 10 a rauh hnu ah khua upa minung paruk a hun chuahpi hna. An khuabawi pa nih lut hna sih a kan ti i 'buk' tang chung ahcun a kan hruai.
Thutnak hmunhma kan hun lak dih in an khuabawi le khua upa nih an kan zohning khi phundang ngai in ka thinglung ah a um. Lunghrinhnak le lung-aw tawmnak kan cung ah an ngei ti ka ruah. Cu ruang ah bia tluangte in kan ruah khawh hna nakhnga tihin bia ka vun thawk.
"Ral ruang ah thinphanhnak le khuasak tintuknak ah harnak he nan um kan hngalh. Kanmah cu …. kan si. Atu ahhin nanmah sinah chawva bawmhnak in kan ra lo. Asinain, himnak le duhdimte in khuasak khawhnak hi nanmah caah a biapi tuk. Cozah lei le a dang NGOs nih hi tluk nan thinphannak, harnak hi an in tuarpi hna lo. Cucaah atu nan harnak kong le nan dirhmun hngalh duh ah ka ra. Nan kong hi vawleicung nih hngalh in midang, khuadang bantuk in himnak le zalonnak tang ah nan um khawh nakhnga thawng thanh kan duh. Cucaah kan in halmi hna dikte in nan kan leh naklai kan nawl hna. Zei hmanh tih ding a um lo."
March 29, 2015 zanlei suimilam 7:00 – 8:00 dengmang tiang AA timi Arakan Army le Kawlram Ralkap (KR) an khua ah an i kahning kong cu khuabawi Pu Aung Pi nih hitin a chim.
"Zanlei sml. 6:30 hlan deuh ah survorh ah tiva a kalmi upa pahnih cu khuachung ah baa ngai in an rak tli. Kan khua hi AA ralkap nih an kulh dih cang. Tiva ah an kan tlaih i kan luat. Pakhat cu an tlaih beh. Kan zaam cangka meithal in an kan kah i an kan nganh. Himnak caah pakhatkhat tuah a hau tiah a kan ti. Cu cangka in sianginn i a ummi Kawl ralkap nih an theih colh ve. Khuami dihlak cu Pyichaung tiva ah vaa thup dih uh an kan ti. Kawl ralkap cu kan khuachung ah kin an ciah (duty) dih in khuami tamdeuh Pyichuang tiva kan phak in meithal thawng kan theih colh."
Khua upa Aung Be nih, "Khuami dihlak tar, ngakchia upa thlu loin zankhua dei tiva pawng ah cun kan riak. A thaizing khua kan kir tikah kan vok le kan ar tampi cu lamkam ah an ril ko. Sianginn kan zoh tikah a rawk dih ti awk in a um. Siang cachim an umnak pathum zong a rawk i inn pahnih zong a rawk. AA ralkap pawl cu an rak um rih. An kan auh i Kawl ralkap in a thimi Bogyi Ktaw Htin ruak cu vui an kan fial. Cun AA ralkap nih kan khuami (10) cu thil phorh ding ah an auh hna i Bangladesh ramri tiang an va thlah hna hnu, a thaizing March 31 ah khua an hung kir. Asinain khuami cu kan zam dih cang caah April thla zarhkhatnak lawng ah kan i tong than hna," tiah kahnak a umtuning kong a kan chimh.
AA ralkap pawl an kir hnu in chanh ding ah Kawlram ralkap cu an khua hi March 30 zanleipi lawng ah an phan. Kahnak a chuah lio ah Kawlram ralkap cu pariat lawng an si i AA ralkap hi 40 renglo an si tiah khua upa nih a kan chimh.
"Kan khua pawng dihlak cu Kawl ralkap nih bomb an phum dih. Nan kal tikah ralringte in kal uh an kan ti. Thla hnih deng kahnak a um cang nain kan khua pawng ah bomb an phummi a um rih. Kawl ralkap zong a kiangkap ah an um rih. AA ralkap zong an rat than ahcun kahnak a chuak rih lai caah kan tih tuk. Atu tiang khua kir kan ngamh rih lo," tiah thingphang nawn in Pu Aung Be nih a bia a hun peh.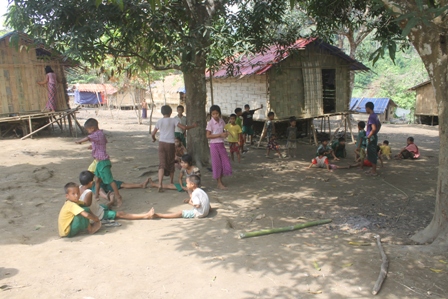 Nuamte in lente aa celhmi Pinsu khua ngakchia rual hnaAtu lio Pin Su (Pyin Shu) khuami an i dornak hi an khua in meng 20 fai aa hlatnak Laungtin khuataw ah a si. "Buk sak lio ah amahte in aa sa kho lomi tar le nu inn hna cu Laungtin khua mino nih an sakpi hna," tiah Pu Aung Pi nih a chim.
"March 29 in kan zam dih hna, kan khua ning in. Kan zamnak khua le hmunhma zong aa khat lo. Cheukhat chungkhar cu an i thenthek dih. Kan umnak thawngpang duhsahte in kan in hlat hnu ah khuami dihlak in tonnak kan ngei than. Atu kan umnak Laungtin khuataw ahhin April 27 ah damte in kan i hmu kho dih hna," tiah Ya-yaka chungtel Pu Maung San nih a chim.
Asinain atu bantuk in chungkhar tlingte in an i ton than lio ah chungkhar tling lo inndawng pakhat an rak um. March 29 zan ah AA nih mipa pakhat an tlaih i nihin tiang a konglam an hngal ti lo. "A thi maw a nung, khoika a phak ti kan hngal lo," tiah khuabawi pa nih a ka chimh. A tlau mipa a min cu Pu Ling Maing ti a si. "Mi felte a si i kan khua ah kan bochan taktakmi a si," tiah a ti.
An i dornak bu cu pakhat hnu pakhat in kan hei zohpiak hna. Vampang zong thathi in an chuang kho lo. Cheukhat cu a cungkhuh khuhnak tapalin (Palastic) tiang in an ngei lo. Innhmai ah rawl an chuang cio khi ka hmuh. Bel thitha ngei an tlawm caah inn nga ah belkhat tiah a changchang in rawl an chuang.
Vampang zong aa chong lomi inn pakhat ka hei hmuh. Kum 25 fai a simi nu nih a fa hnuk a dinh pah in kum 5 ngakchia nu a pom pah rih khi ka hei hmuh. An pawng ah tarnu nih a thutpi hna. Cucu biaruah ka duhmi a tlaumi Pu Ling Maing i nupi cu a si.
Ngaihchiatnak mithmai a cuan ka hmuh tikah zeitin ka chawnh lai ti ka hngal lo. Na fale an dam maw? Kum zeizatdah an si, nang tah na dam tha maw ka hei ti. "Kan tha ko. Ka fa upa nu hi kum 5 a tling lai. Hnuk a dingmi nu hi thla 13 a si cang a ka ti." Mah hi na pi maw a si ka ti i "ka nu a si, kum 68 a si cang. Amah le ka fa pahnih he tiah khua kan sa. Khuami nih ei-awk tete an kan pek i cutin kan nung" a ka ti. An pa sining kong ka hal hlan ah fa hna na pawi maw ka ti. "Pawi, thlali a si cang," a vun ka ti i a mitthli tla deng in a um tikah ka hnarnoruh a hun ka tam. Sau nawn biahal loin kaa din i thazaang ka hun la. An pa kong biahal ding zeitin ka tuah lai ti khua ka ruat.
Pu Ling Maing nupi min hi Pi Koe Li ti a si. An pa zong nule pa le chungkhar a ngei lomi a si. Amah zong chungkhar ngei loin a nu he khuasami an si. An pa hi lothawh thingphur lei ah a thawng ngaimi a si caah an khua ah a nung kho ngaimi an si.
An pa kong hal cu kaa harh deuh rih. Nan khua ah nan inn zeidah a lawh, ei awk hna nan ngei pah maw ka ti. "Kan inn cu a rawk pah cang, hi hnu kum khat cun remh a hau cang. Nizan ah upa nih kan khua an va feh i ei awk kan ngeimi le kan vok zong an rak um ti lo an ka ti. Ka fa sianginn kai a cu cang. Lo zong tukum cu kan tuah kho ti lai lo. Zeitin ka fale he kan nung lai ti ka ruah ah ka mitthli a luang tawn," tiah tah aw he thir nawn in a ka leh.
Nan pa sining kong ka theih i ka ngaihchia tuk ve. In halning law zeitin, a kong hngalh ka duh ko ka ti ahkhin a hnap hrawh pah in a tah aw a hung chuak. A lu aa chit i, 'ka hal, ka hal' a ka ti.
An pa kong cu hitin a ka chimh:
"Kan pa hi zanlei fatin thingthei a va bawh tawn. Sa zong hi a kap ngai. Zanlei 5 pm in aa thawh tawn i zan 7:30 ahhin a rak tin tawn. Mah ni (March 29) zan zong cu kan khua pawng i a va bawh tawnmi thingthei bawh ah aa thawh. Khuami nih zam a hau an kan ti tikah kan pa kong ka tuak manh ti lo. Ka fale ka nu he zeitin kan him lai ti lawng hi ka ruat. Nithum tiang ah a tlau lai ti ka ruat lo. Asinain aho paoh an phak dih tik in kan pa lawng khuami in a bau ti ka hngalh tikah pakhatkhat a cangcang ti ka zumh. Cucun kan pa kong hi kan khuami upa paoh ka hal dih hna. Aho hmanh nih a umnak an ka let kho lo."
"Thingthei a bawhnak hmun hi AA ralkap pawl khua an ratnak hmun a si. Cun thing a at mi pathum zong an tlaih hna. Cucaah ttumi meithal he ram a vaimi Pu Ling Maing hi Rahkine ralkap nih an tlaih i pakhat khat an tuahmi a si lai, tiah khuami nih kan zumh dih" tiin Pi Koe Li sin a ka zultu Pu Maung San nih a ka chim.
A peh i, "AA nih kahnak a dih hnu in ralbawi Kyaw Htin le ralkap sawhsawh pakhat a thi tiah thawng an thanh. A thi taktakmi kan hmuhmi le kan hngalhmi cu ralbawi Kyaw Htin lawng a si. Cucaah AA nih an thanhmi hi atu Pu Ling Maing hi a si lai ti kan zumh," tiah a ti.
"Thla hnih a rau cang. Kan pa cu a lawi ti lo. A nun rih paoh ahcun a kan hlam lai i kan sin a ra hrim lai. Nihin tiang a kan hlam ti lomi cu ruahchanhnak a um ti lo. Ka ruahchan ngam ti lo. Kan pa hi a thi cang ko. Ka fale le ka nu he nungdamte in kan um khawh dingtu hi ka tuak cang. Kan pa kong ka tuak ahcun ka fale ka zang an fak tuk. Tuak lo in hmailei caah i timhtu hi kaa zuam ko cang," tiah Pi Koe Li nih a angki in a mitthli aa hnawh pah in a ka chimh. CHRO lei in bawmhnak an kuatmi te ka pek i a fa hnuk dinh le a dang pompah a si caah a nu ka hei pek. A nu cu holh ruang ah bia kan i ruah kho lo nain a mithmai ah ngaihchiatnak a rak ngeih ve ka hmuh. Ka lu a ka muai pah khin a nu nih ka putmi laksawng cu hlan.
Khuabawi pawl nih, "UNDP, UNHCR, UNICEF le a dangdang nih a kan veh. Kan kong an ka hal nain aho hmanh nih bawmhnak an kan pe lo. Chin ramkulh cozah nih phaisa sing 40 le Khumi mino nih bawmhnak halpiakmi, biaknak lei cheukhat in bawmhnak in kan nung rih. Ni linh lak a si tikah kan eimi, dinmi zong a tha lo. Minung 30 fai cu chungthlik an tuar. A dang pahnih cu Paletwa sizung an phan," tiah a ka ti.
Bawmhnak hi Kawlram ralkap lei in tapalin, eidin tlawmpal le coka hmandingmi nam le herhhai sing 20 fai an bawmh ve hna. An i dornak Laungtin khuataw ah cun sianginn zong cu sak an thawk i rua in an kulh pah cang.
"Sianginn kai a za cang lai. Kan khua kir ding kan ngamh lo. Kan sianginn a rawk dih. Chin ramkulh cozah sin ah hmanthlak he tuahpiak ding in kan ti nain lehnak a um lo. Atu kan umnak ah aho nih kan fale ca a chimh hna lai kan ruah ah ka ngaih a chia. Kan si khawhnak lam in kan fale sianginn an kai khawh nakding cu kan i zuam lai," tiah khuabawi pa nih sianginn kong he pehtlai in a ka chimh.
Cozah le ralkap lei nih nan khua ah kir uh. Nan kir lo ahcun nan khua min kan hrawh lai. Cu ohsuh (village tract) min in kan in hlawt hna lai tiah thihphaihnak zong an ton chih tikah a kaakip in Pin Su khuami an lungre a theih khi ka hmuh. Inn 62 si i minung 356 caah an hmuhmi bawmhnak hi a za hrimhrim lo. Sanpioh in caansau pi an nung cang nain, an din-ei mi vitamin a chambau tikah an ngandamnak caah lungre thei a si.
Lungre theih le ngaihchiat chimpit in an um lio ah cozah lei in hramhram in kir an fial hna. Nan khua cazin an hrawh lai an ti rih. Khua ka ruahmi cu, 'Cozah hi mizapi a kan bawmtu, tha a kan petu maw an si, a kan thihphaihtu dah' ti hi a si. 'Pin Su khuami an harnak kong ah cozah a rian cu himte in an um khawhnak, a hna ngamnak caah bawmh le thazaang pek hi a si hnga lo maw. Ralkap cozah si loin thimmi cozah nih ziah zawnruahnak tlawmte lawng a ngeih ti khi ka tuak tikah ka lung a hra hrim lo. Cozah tha, mizapi cozah taktak kan ser kho rih lo hi ta," ka ti.
Nuhrin covo mit in zoh ahcun aho minung paoh humhimnak, duhdimte in nun khuasaknak hi kan ngei. Pin Su khuami cu an ngei lo. Cu a ngei lomi bawmh lo le chanh lo cu nuhrin covo a buarmi cozah le minung kan si ko hnga lo maw.
Minung cu man asiloah limhang (dignity) he a ummi kan si. Cu minung man cu aho paoh nih tlingte in kan ngeih khawh nakding ah tihphannak, launak, din-ei caah lungre theihnak in kan luat a herh. Cuti a luat lomi bawmhding cu aho paoh tuanvo a si. A bik in cozah nih tuanvo a ngei.
Bawmh a herhmi minung, kan hmaikaa in a ummi bawmh lo hi nuhrin covo buar a si. Khrihfa sining he zong aa ralkahmi a si. Cucu Pin Su khuami nih nihin tiang an tinco khawh rih lomi covo cu a si.
"Chaklei Laitlang lei in kan sining thawngpang a kan hal hmasatu hi nangmah na si. Aho hmanh nih zei nan lawh ti hal kan tong rih lo," tiah an khuabawi nih lawmhnak le mithmai panh in a ka chimh. A khuami caah zeihmanh bawmhnak ka pek khawh hna lo caah kei zong ka ngaih a chia. Amah dirhmun ah kaa umter tikah ka hnakruh a ka tam.
Zeikhom a si ah Pathian nih an umpi hna lai. Himnak tlamtling nan ngei lai ti ka zumh ti lawng khi ka thazang pek khawhmi a si.
Bia kan i ruah tikah an lung a dam ngai ka hmuh. Kir lai a za cang. Zeitin ka chawnh hna lai ti ka hngal lo. An khuami upa 8 nih kan tilawng pawng tiang an rak ka thlah. Cu ahcun CHRO nih kuatmi bawmhnak tangka cu ka ap hna. "Nan kong vawleipi nih an theih ding tuhi keimah ka ti khawhmi a si. Pathian nih lam in hruai hna seh. Kan tlawngthan te hna lai," tiah bia ka chim ta hnu ah tilawng in Rangoon lei kir cu kaa zal.
Kanmah bantuk in Pin Su khuami nih himte in khuasa kho hna seh. Minung nunnak ah a sung lawi bikmi cu duhdimte in khuasak khawh le chungkhar tlingte in tlonlenti khawh hi a si. Pin Su khuami zong a rauh hlan ah cu bantuk cu an co te lai tiah zumhnak ka ngei i saduh zong ka that.
Pehtlai Thawng Relchap;http://www.thechinlpost.com/index.php/hmuhning/hmuhning-biazai-theihtleih/capar/599-ral-ruang-ah-laikhua-a-tiomi-harnak-an-tong-cozah-cung-ah-an-lung-a-tling-lo
http://www.thechinlpost.com/index.php/hmuhning/hmuhning-biazai-theihtleih/capar/627-himte-in-khuasak-khawh-hi-a-va-sunglawi-hringhran-dah-paletwa-tlawnnak