Singapore: Myanmar's military junta is resorting to old tactics, stoking anti-Muslim tension, as fears rise about more atrocities being committed in the strife-torn south-east Asian nation.
Ten months after seizing power in a coup, the Tatmadaw, as the military is known, has escalated an offensive in the country's north, displacing tens of thousands of people amid reports of air strikes and foreign government concern about human rights abuses committed by security forces.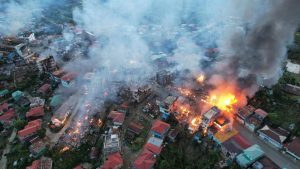 In this photo released by the Chin Human Rights Organisation, fires burn in the town of Thantlang in Myanmar's north-western Chin state on October 29 this year.CREDIT:CHIN HUMAN RIGHTS ORGANISATION
Confronting continued armed resistance, it is also turning to its playbook on inciting racial division, four years after it drove nearly 800,000 Muslim Rohingya from their homes and across the border into Bangladesh in a vicious crackdown marked by killings and rape.
In leaflets which news site The Irrawaddy said this week were airdropped in Mingin, a town in the north-west Sagaing region of the Buddhist-majority country, the military told villagers the Organisation of Islamic Cooperation was providing money and ammunition to support the killing of monks and insulting the Buddhim.
"They will be happy about the current situation where Buddhists are killing each other," the leaflets said.
Chris Sidoti, an investigator on the United Nations' 2019 probe into the treatment of the ethnic minority Rohingya, said the strategy was "in line with what the military have been doing for generations".
"They sow discord, especially against Muslims, as we saw most dramatically in the Rohingya 'clearance operation' in 2017," he said.
"The line here is completely consistent with their past tactics and those of their Bamar Buddhist chauvinist allies."
Ronan Lee, a visiting scholar at the Queen Mary University of London's International State Crime Initiative, described the reported distribution of the material as "very worrying", saying the junta was again "weaponising anti-Muslim prejudice".
"This kind of incitement previously contributed to anti-Muslim pogroms, forced displacement and genocide," said Lee, a former Greens MP in Queensland.
The leaflets also threaten the public with the military's notorious "four cuts" strategy in a bid to suppress resistance, warning villages will be destroyed if there is an insurgency.
It is just the latest instance of the information warfare in a post-coup crisis. The military has killed more than 1300 people and arrested more than 10,000 since the takeover on February 1, according to the Assistance Association for Political Prisoners monitoring group.
Reuters reported last month that thousands of soldiers were being instructed to open fake accounts on social media to spread military propaganda, monitor dissent and take aim at opponents online.
The Tatamadaw said it took control because of electoral fraud army generals alleged was committed by Aung San Suu Kyi's National League for Democracy party, claims that were dismissed by Myanmar's electoral commission and by international observers.
Now, as opposition to its takeover continues, the military has stepped up its deployment of troops and heavy weaponry to combat armed opposition in the north and north-west of the country, leading Tom Andrews, the UN Special Rapporteur on human rights in Myanmar, to warn of "more mass atrocity crimes".
"These tactics are ominously reminiscent of those employed by the military before its genocidal attacks against the Rohingya in Rakhine State in 2016 and 2017," Andrews said in October.
The Australian government also weighed in last weekend, issuing a joint statement with Canada, New Zealand, Norway, South Korea, the United Kingdom and the United States, citing "credible reports of sexual violence and torture, especially in Chin state, Sagaing region and Magwe region".
"In Chin state, it is reported the military has burnt homes, churches and an orphanage in Thantlang village, and has targeted humanitarian organisations," the statement said.
"We are concerned about allegations of weapons stockpiling and attacks by the military, including shelling and air strikes, use of heavy weapons, and the deployment of thousands of troops accompanying what security forces assert are counter-terrorism operations, which are disproportionately impacting civilians."
On Thursday, Human Rights Watch released a report detailing how security forces encircled protesters and fired on those who tried to rescue them during a massacre in Yangon in March in which at least 65 people were killed.
Meanwhile, Suu Kyi is facing decades-long prison sentences over a dozen charges filed against her by the junta. They have been taking place behind closed doors in the capital Naypyidaw.
The first of her trials – on charges of incitement and breaching the country's natural disaster laws while campaigning in a pandemic year – is due to come to a conclusion on Monday.
December 4, 2021 — 5.00am
Sydney Morning Herald
Myanmar junta 'weaponising' racial tension with leaflet drops, houses burned in Thantlang (smh.com.au)