Presentation by Salai Za Uk Ling (CHRO)
at the Launching of Christian Solidarity Worldwide's Report
"Carrying the Cross: Burma's military regime's restriction, discrimination and persecution of Christians in Burma"
Wilson Room , UK Parliament Westminster , London
January 23, 2007
Distinguished Members of Parliament, friends and ladies and gentlemen,
Good evening!
I am here before you today as a Chin national and as a member of an organization that has been monitoring human rights situations in Chin State for the last twelve years to beseech your support and solidarity, and to draw your attention to the plight of our people. Chin Human Rights Organization is a non-profit and non-governmental organization committed to protecting and promoting the rights of Chin people and to restoring democracy and respect for human rights in Burma .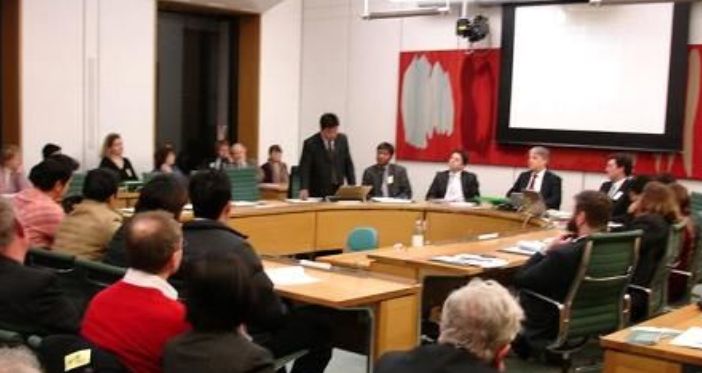 Before I go onto talking about the status of religious freedom in Chin State , I would first like to commend Ben Rogers and the Christian Solidarity Worldwide for the very excellent report and for having been good friends of the persecuted Christians in Burma . You truly are the voice for the voiceless – the most forgotten people in Burma .
Many of you, I gather, have been familiar with the situations in Burma and the atrocities and the various forms of human rights violations in that country. We often heard or read in the news about atrocities in Burma 's eastern frontiers such as Karen, Karenni and Shan States and the imprisonment of the country's democratic icon Daw Aung San Suu Kyi. Aside from the Annual International Religious Freedom Report by the United States government and the 2004 CHRO report, there has been virtually no international publicity or highlights of the violations, discriminations and persecutions suffered by Burma's religious minorities such as Christians and Muslims at the hands of one of the most paranoid and brutal regimes.
Chin State is perhaps the one area in Burma in which the junta's policy of persecution against Christian is expressed in the most obvious and violent ways. Over the past decade, the regime has destroyed several churches and deliberately removed crosses placed on hilltops, disrupted worship services, and physically assaulted and tortured pastors and Church leaders. The regime also imposed strict discriminatory and restrictive rules on the activities of Christian churches, while it openly promotes Buddhism through various means.
As the CSW report attests, the persecution of Christians in Burma is systematic, as can be seen in Chin, Kachin, Karen and Karenni States where there's a significant Christian population. And this represents part of a larger policy of the regime to create a uniform national identity in which Burmese is the only language and Buddhism the only accepted religion. This is the mentality of the regime and its approach to making Burma "a modern and developed nation". No one should need more convincing of the fact that Burma 's military junta is intent on destroying the culture, religion and ethnic identities of non-Burman ethnic groups. And there should be no doubt that Burma 's military regime is guilty of religious persecution against Christians and cultural genocide against the various ethnic groups in the country.
Responding to international criticisms, the State Peace and Development Council often refers to the fact that "Buddhism, being a peaceful religion, is against force-promoting its faith." There is no illusion about this statement being true. It is NOT the Buddhist faith or the larger Buddhist community in Burma , but the military regime that manipulates religion as a tool to achieve political ends at the expense of other religions.
Friends, imagine living under a government that burns down your church, desecrate your religious symbols, humiliate your pastors and punishes you for no other reason than because you have a different faith and distinct identity. These are all ongoing as we speak. Just the other day, I spoke to a prominent pastor in Chin State who told me that in one village populated by Chin Christians, a Buddhist monk backed by the military burned down a local church and ordered Christians out of the village.
We need strong international condemnation of the regime, to tell the Generals in Naypyidaw their actions are unacceptable. Burma must be persuaded to accede to all relevant international human rights treaties including the Covenant on Civil and Political Rights, Covenant on Economic, Social and Cultural Rights and Convention on the Elimination of all kinds of Racial Discrimination. More importantly, we ask the British government to call for the UN Special Rapporteur on Religious Freedom to investigate persecution of Christians in Burma .