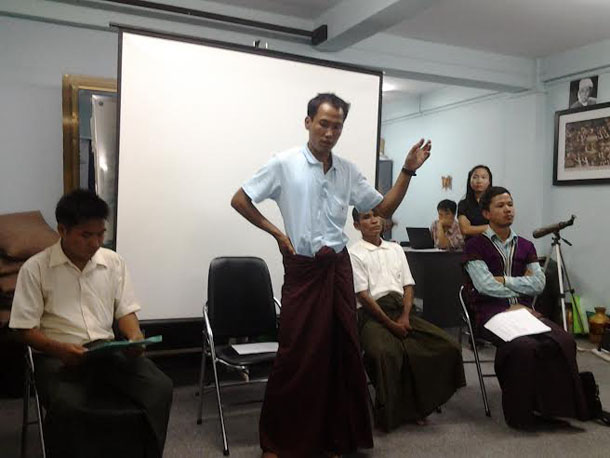 Chin activists and a farmer speak during a press conference in Rangoon on Wednesday, during which they accused the Burma Army of torturing six Chin farmers. (Photo: Yen Snaing / The Irrawaddy)Chin activists and a farmer speak during a press conference in Rangoon on Wednesday, during which they accused the Burma Army of torturing six Chin farmers. (Photo: Yen Snaing / The Irrawaddy)
By YEN SNAING / THE IRRAWADDY| Thursday, September 18, 2014
RANGOON — Chin human rights activists and politicians have accused a Burma Army unit of the arbitrary detention and torture of six ethnic Chin farmers, saying that the soldiers beat the men during nine days in custody because they suspected them of supporting Chin rebels.
During a press conference in Rangoon on Wednesday, Chin activists and a politician alleged that Maj. Tin Htut Oo of the Light Infantry Unit 344 in Chin State's Palatwa Township ordered the arrest of the farmers during a harvest festival held in Kone Pyin village on Aug 24.
Thirteen soldiers arrested six farmers in the village after three armed members of the Chin National Front (CNF) attended the festival and were offered a meal. The villagers were allegedly held in custody for nine days, during which they were tied up and received beatings while being questioned about their affiliation with the Chin rebels.
They were released after being forced to sign a statement pledging that they would no longer have any contact with the CNF.
Aung Kyaw Hla, one of the farmers, said, "We held a harvest festival on the farm. Three soldiers from CNF arrived to look for [vegetables and meat] while we were eating, and so they ate with us.
"The soldiers of the [Burma] army arrived and said: 'Why did you invite them, not us?' Then they were angry and they beat us."
Aung Kyaw Hla was visiting Rangoon with the support of Chin activists in order to receive treatment for a neck injury and a possible blood clot in his brain, injuries he sustained as a result of his detention, journalists at the press conference were told.
The six farmers also received support to file an official complaint against the Burma Army unit major in a letter sent to the Chin State chief minister.
Chin National Democratic Party Secretary Ceu Bik Thawng called for an investigation and punishment for the involved officers. "We are calling on authorities to take action against those who tortured [the farmers] without any concrete reason, while the farmers were just living at their village peacefully," he said.
Isaac Khen, director of the Gender Development Institute in Rangoon, said the soldiers could not arrest Chin farmers for having contact with the CNF because the group has signed a ceasefire with the central government.
"Whether the CNF has breached ceasefire agreement conditions or not, does not concern ordinary Chin… If the [Burmese] military want to accuse CNF soldiers of carrying weapons, they can go through the [ceasefire] complaint mechanism," he said.
Lian Bawi Thang, country program coordinator of the Chin Human Rights Organization, said the abuse of Chin villagers by soldiers was common and a clear violation of civilians' rights. "We have noticed that there is a lack of rule of law [in Chin State]. We have seen torture, threats and forced confession," he said.
For decades, the Burma Army has been accused of carrying out rights abuses, such as torture, rape and extrajudicial killings, against the ethnic civilians in the country's rugged periphery, where dozens of ethnic rebel groups have fought a long-running insurgency.
Rights group said the violations are committed with impunity and that soldiers often go unpunished or come away with light sentences at military tribunals.
Under past military regimes, the draconian Unlawful Association Law was often used to detain and charge ethnic civilians and politicians for suspected contact with banned armed group. Since 2012, when President Thein Sein's reformist government began signing ceasefires with numerous rebel groups, the law has been used less frequently.
http://www.irrawaddy.org/burma/army-tortured-6-chin-farmers-rights-group-alleges.html