ROSALINN ZAHAU and RACHEL FLEMING
25 March 2014
Ethnic Chin refugee women and children from Burma are the hidden victims of pervasive sexual and gender-based violence (SGBV) in New Delhi, India. Lacking confidence in the current peace process in Burma and unwilling to return home, the prospect of staying in New Delhi is both bleak and terrifying.
The predominantly Christian ethnic Chin people from Burma have been subjected to pervasive human rights abuses by State actors for the past twenty-five years. In fact, a 2011 report by Physicians for Human Rights (PHR) concluded that such grave violations amount to crimes against humanity.
This persecution has forced an estimated 100,000 Chin to flee across the border to Mizoram in Northeast India. India is not a party to the 1951 Convention on the Status of Refugees or the 1967 Optional Protocol, nor does it have a domestic legal framework for the protection of refugees. In addition, India has not permitted the United Nations High Commissioner for Refugees (UNHCR) in New Delhi access to Mizoram. In the absence of legal protection and humanitarian assistance in Mizoram, some 8,000 Chin refugees have made the long journey to New Delhi to seek protection from UNHCR.
Mrs. O.* is one such refugee. She fled Chin State for India in 2006 due to constant harassment by Burma Army soldiers. She was sexually assaulted in New Delhi in 2011 by a local Indian man who forced his way into her home. She told CHRO,
"Since the incident I am in a constant state of fear and anxiety about living in New Delhi, and the prospect of facing this kind of assault again."
Mrs. O. is one of many Chin women and children who fled Burma because of human rights abuses, only to face pervasive sexual and gender-based harassment and violence in New Delhi at the hands of local Indian men. Burmese refugee community-based organizations in New Delhi have documented more than 200 violent attacks over the past three years, over half of those sexual assaults.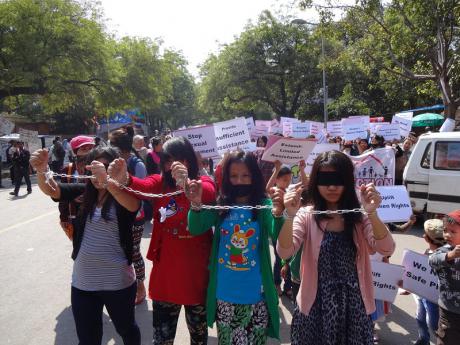 Unfortunately, the vicious cycle of discrimination, abuses, and abject poverty that Chin have experienced in their country of origin is simply recurring in their protracted urban refugee situation in New Delhi. A spate of recent violent assaults against people from the Northeast living in New Delhi, including the rape of 14 year-old Manipuri girl and the fatal beating of a student from Arunachal Pradesh, have sparked a debate about racism in India. The physical characteristics that Chin share with indigenous peoples from Northeast India and Nepal – and their additional vulnerability as refugees – make them easily identifiable targets for discrimination in New Delhi. Of particular concern is SGBV against Chin women and children, ranging from groping to gang-rape.
Recent in-depth research conducted by CHRO with Chin refugee SGBV survivors and their families highlights the barriers to effective forms of redress, and refugees' hopes for their future.
Some of the barriers
Chin women and children are often assaulted in their own homes, or nearby, by local Indian men known to the victims. The overriding concern of Chin refugee survivors is their immediate safety. Extreme financial hardship means that survivors are unable to move to a somewhat safer location away from the perpetrator(s).
UNHCR and its implementing partners the Socio-Legal Information Centre (SLIC, which provides legal aid and mediation services) and Don Bosco Ashalayam (Don Bosco, which administers UNHCR subsistence allowance to vulnerable refugees) undoubtedly face limitations with regards to available funding to support survivors of SGBV, and also in their capacity to conduct outreach with the most vulnerable families.
The onus is therefore on survivors of SGBV to visit the offices of UNHCR and implementing partners for help. Financial hardship is also a significant barrier to pursuing a formal police complaint and legal case, which requires financial resources beyond the limited means of the poorest families.
Unfortunately, failings in service provision by UNHCR and its implementing partners – as well as an apparent culture of denial and victim-blaming within those organizations, representative of prevailing attitudes within Indian society – has resulted in a mutual lack of trust between those agencies and the Chin refugee community. This has become an additional barrier to effective redress.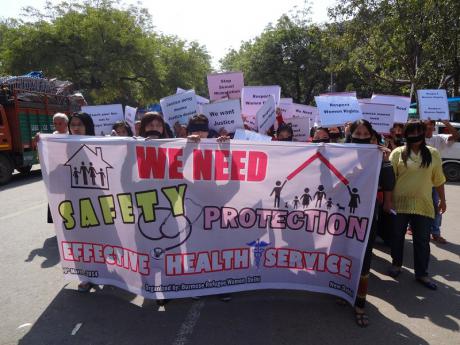 Mrs. C.'s two year-old daughter was sexually assaulted on the landing just outside the door of her home in August 2013 by a local Indian youth. The family has since faced repeated harassment from local youths. Mrs. C. told CHRO,
"I rushed to the Women Protection Clinic [part of UNHCR] to seek urgent help. But the security guards at the gate told me I wouldn't be able to see anyone and refused to let me inside. I was desperate, so I rushed to the emergency department of the DDU hospital [Deen Dayak Upadhyay, an Indian government hospital tied with UNHCR] to get some help for my daughter… But to my shock, the doctor just scolded me. He accused me of lying and said no-one would do such things to a small child. The doctor just ordered us to leave the room without conducting a proper examination.
The next day I went to SLIC to report the case. The staff from SLIC did not believe me at first…. But after the medical examination, the doctor confirmed that my daughter had been sexually assaulted. After that the staff at SLIC just told me I should be taking better care of my daughter and didn't offer me any proper advice… I expected the UNHCR implementing partners to understand our problem and provide us appropriate assistance and guide us on what we can do for my daughter's suffering. But all of them, including the doctor, were just blaming me for what had happened instead of helping us…"
Sadly, Mrs. C.'s experience is not an isolated case, but rather emblematic of the challenges facing Chin refugee survivors of SGBV and their families. Mrs. C. decided not to pursue a formal complaint, citing language difficulties and financial hardship.
Such barriers – in addition to the well-documented systemic failures of the police, an inefficient Indian legal system, and the chauvinism that permeates India's public institutions at all levels – are preventing access to justice and effective forms of redress for Chin refugee survivors of SGBV and their families.
To date, only one rape case of a Chin refugee woman has resulted in a successful conviction, with the perpetrator sentenced to 10 years in prison and fined 60,000 Rs (580 GBP). The court also directed the New Delhi government to pay reparations to the woman under the New Delhi Victims Compensation Scheme, which entitles a rape survivor to a minimum compensation of 300,000 Rs (2,900 GBP). On the one hand, this case has set an important precedent for justice for refugee rape victims. On the other hand, the victim and her family endured a prolonged ordeal and still face the same struggle for survival in New Delhi. In her own words:
"In total, we had to go to the court about 40 times. Whenever we went there, I had to face the culprit. We went through a very difficult time both mentally and financially…. There is respite for me that he is in prison now. But apart from that, I do not see any difference in my life by reporting about the incident. I hope that our family will be resettled to a third country, as I will feel safe being away from New Delhi. There is no meaning in our lives here in New Delhi. We cannot go back to Burma."
Wait-and-see
UNHCR has pursued local integration as the primary durable solution for Chin refugees since the early 1990s, despite persistent protection issues. This continues today, alongside what appears to be a 'wait-and-see' approach in the hope that voluntary repatriation will soon become the primary solution. However, the prospect of a prolonged stay in New Delhi is bleak and terrifying for Chin refugee survivors of SGBV. The Chin refugee community in New Delhi views third country resettlement as the only viable solution for them, due to the ongoing protection issues they face as refugees in New Delhi, and their fears of renewed persecution by State actors if they were to return home.
Although the ethnic armed resistance group, the Chin National Front, signed a ceasefire agreement with the Union government in December 2012, the Chin public lacks confidence in the current peace process. While the overall prevalence of human rights violations documented by CHRO has declined, we continue to document very serious abuses since President Thein Sein's government took power in March 2011. These include extra-judicial killing and sexual violence in 2012, and threats to burn down a village for conversion to Christianity in October 2013.
The problems facing the Chin refugee population in New Delhi are undoubtedly complex, and require far greater resources for UNHCR and its implementing partners, coupled with a shift in mindset. However, they also require a change in policy. Voluntary repatriation is still a distant solution for most Chin refugees. To date, the peace process has not included any discussion of withdrawal of Burma Army troops from ethnic areas. Chin refugees will not want to return home until they know that there has been a permanent, publicly announced, independently verified withdrawal of Burma Army troops from their towns and villages as part of the peace process. Given the stark protection issues, in the short to medium term there should be greater focus on third country resettlement as a key durable solution, with urgent priority given to documented SGBV survivors.
*All names have been changed to protect the identities of SGBV survivors.
About the authors
Rachel Fleming has worked as Advocacy Director at Chin Human Rights Organization (CHRO) since March 2010. She is the author of "'Threats to Our Existence': Persecution of Ethnic Chin Christians in Burma", an in-depth 160-page report on religious freedom published by CHRO in September 2012.
Rosalinn Zahau is a researcher and advocate for CHRO. In 2013, she participated in a European Parliament hearing in Brussels in June about the human rights situation facing the Chin, and was also a participant at the UN Forum on Minority Issues in Geneva in November.
http://www.opendemocracy.net/rosalinn-zahau-rachel-fleming/%E2%80%9C-constant-state-of-fear%E2%80%9D-chin-refugee-women-and-children-in-new-delhi