August 15, 2022
The status or whereabouts of two children who were abducted by junta soldiers from LIB 268 on Sunday August 14, 2022 following the raid and pillaging of New Haimual Village, Tedim Township remain unknown.
The siblings, 17 year-old girl Lal Nun Pui and her little brother Lal Ruat Mawia (15), remain missing a day after soldiers had taken them hostage during a raid on their village, which left at least eight houses burnt to the ground.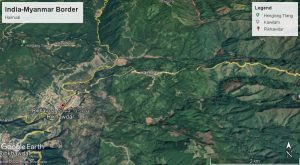 According to a spokesperson of the CDF-HualNgoRam, soldiers from Falam-based LIB 268 terrorized the village by burning houses and abducting the children. It followed the death of the Battalion Commander Major (Lt. Col in waiting) Wai Moe Paing and four of his soldiers, and the surrender of four additional soldiers to the joint Chin resistance forces, which launched an attack on the hill-top camp near the Indian border on August 10.
Junta soldiers routinely burn houses and terrorize innocent villagers in a fit of rage after they suffer casualties in Chin State.