Based on credible sources, the Chin Human Rights Organization has now been able to piece together the chain of command structure of the military hierarchical set up in southern Chin State under the Tactical Operations Command (TOC) based in Matupi. The TOC in Matupi has under its command, Light Infantry Battalion 140, Infantry Battalion 304 and Light Infantry Battalion 274, which is based in Mindat.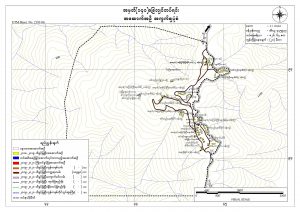 CHRO learned that following the embarrassing loss suffered by the military in the battle for Mindat in May, the previous Tactical Operations Commander Col. Thein Htun Aung was demoted after a court martial and deputy commander Lt. Col. Thet Zaw Htet was also court martialed and jailed in Monywa. The shake-up resulted in the appointment of Col. Ye Kyaw as the new Tactical Operations Commander. In the shuffle, Nay Pyi Taw established a new Tactical Operations Command in Mindat with LIB 274, which reports directly to the North Western Regional Military Command in Monwya, as well as the Office of the Commander-in-Chief in Nay Pyi Taw.
Since October 2021, the junta has deployed 100 additional troops to each of all the existing battalions operating in Chin State under the North Western Regional Military Command, with the exception of Paletwa which falls separately under the Western Command in Rakhine State.